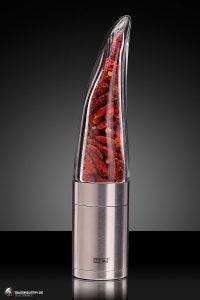 Another cold and gray winter day.
Nothing better to do , so – let's take a picture of my Christmas gift. My new Chili Cutter.
I've loaded the Mill with some "Bird's eye Chili".
Bird's Eye Chillies are botanically to the family of Capsicum frutescens, a particularly hot chilli family, which is considered as the prototype of chili. The bird's eye chili is small, but is quite hot (piquant). It measures around 100,000–225,000 Scoville units.

Here is the Lightning Diagram from the shot: