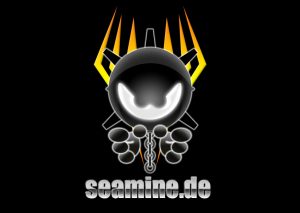 Seamine.de is online!
It's a just for fun project.
The Seamine drifts through the web, and chases interesting internet sites.
I created the logo some years ago, but now i have optimised the Logo a little bit. here is it:
By the way:
Contact mines consisted of an iron hollow container that facilitated their flotation and contained the explosive load. In order to keep a suitable depth, these mines were anchored. The most often used method for inducing the explosion of a contact mine was based on a system of lead caps that contained a glass container filled with an acid liquid. When a ship collided with any of these caps, they were crushed and, because of the rupture of the glass, the acid was introduced into a zinc-coal battery located under the lead cap. This generated an electric current that, when transported by a leading wire to the explosive, induced the incandescence of a platinum resistor wire and the subsequent explosion.