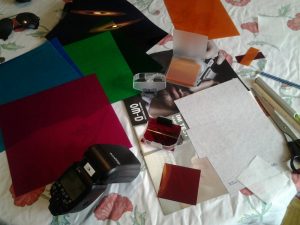 Today i cut some color filters for my 600EX-RT's.
I found a inexpensive solution …
You can buy a set of color filters, for PAR64-Cans. You can cut 9 pieces from one sheet.
Cut rectangles with a length of 7.5 cm. The pieces must not have the original "Canon" shape.
If you get an "exclamation mark" in your Display, go to the "Personal Functions" of your 600EX and disable th P.FN-05, so the color Filter will not be detected